Our Ministers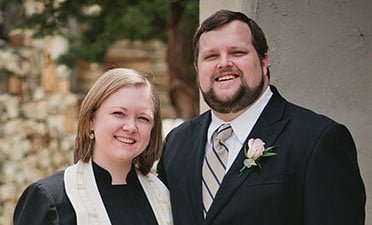 In a congregational meeting in a packed Sanctuary Sunday July 10, members voted to accept the recommendation of the Ministerial Search Committee and call Rev. Kristin Grassel Schmidt and Rev. Christian Schmidt to be our next settled co-ministers.. Over 96% of the members present, representing not just a quorum but a majority of the congregation, voted in the affirmative.
A short time later, at the invitation of Board President Deborah Schmidt (no relation), the Revs. Schmidt returned to UUCB to accept the call. They were greeted with a long ovation by members filling the Atrium.
Before the vote, Kay Fairwell outlined the reasons for the Search Committee's choice. Her remarks may be reviewed here.
Select here to view Audio and video of sermons and Q & A sessions during Candidating Week..
More about the Schmidts can be found on their website.
Send an email to Rev. Christian Schmidt
Send an email to Rev. Kristin Schmidt
Interim Senior Minister – Rev. Greg Ward
After the retirement of Revs. Barbara and Bill Hamilton-Holway, we selected Rev. Greg Ward to serve as our Interim Minister for a two-year period of discerning what we would look for in a new settled minister and other aspects of how we could improve our church. His term ended June 15, 2016.
Greg has dedicated his career to being part of the accredited interim minister program because he sees these times of transition as powerful and tender opportunities to step beyond old habits and routines and grow in spirit, clarity and vision of the institution and the love and commitment of its members and friends.
UUCB was deeply fortunate to enjoy Greg's wise, forceful and decisive leadership during this period of transition and uncertainty.
Rev. Greg's personal site.
Additional Ministers
UUCB is blessed with an abundance of unpaid fellowshipped and ordained Unitarian Universalist Ministers.  Some are members and simply add to the power of community with their pastoral, spiritual or justice-seeking presence.  Some have forged a covenanted status of Affiliated Community Minister with the congregation for a mutually beneficial cooperative ministry.
Ministers Emeriti
Barbara and Bill Hamilton-Holway were called by UUCB's congregation as co-ministers in 1996. Prior to this, they served as co-ministers in Salt Lake City, Utah. During this time, they helped expand Unitarian Universalism by serving as Organizing Ministers for congregations forming in Ogden and Park City.
Barbara is a graduate of Starr King School for the Ministry. Before ministry, she did graduate work in literature and for a decade she was a high school English teacher. Barbara also was a teacher as a Peace Corps Volunteer in the Fiji Islands. She is grateful for her years parenting her now grown children Sarah and Ben. Walking, blue skies, sunshine, poetry, friends and family refresh her spirits. Barbara wants her ministry to encourage people to be true to themselves, to be who they can be, and to increase the odds on justice and love.
Bill graduated from Meadville/Lombard Theological School and the University of Chicago Divinity School. After graduation, he served as minister of congregations in Texas and worked for the Unitarian Universalist Association in Boston as Director of the Extension Department. During college a significant decision for Bill was registering as a Conscientious Objector. Bill's family roots in Unitarian Universalism go back many generations. His grandparents were founders of All Souls Unitarian Church is Tulsa and his parents are founders of Hope Unitarian Church in Tulsa. Unitarian Universalism is in his blood. Family, genealogical research, reading, writing, travel, and hiking are among his great loves.
Barbara and Bill retired on June 1, 2014 and the congregation voted to bestow emeriti status on them at the May 18, 2014 Congregational Meeting.