Our Ministers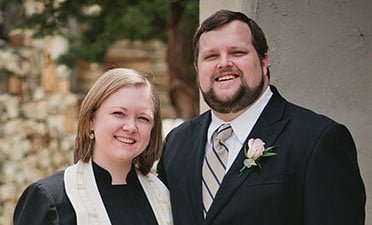 The Revs. Kristin Grassel Schmidt and Christian Schmidt were called in July 2016 to be the settled senior co-ministers of this congregation. They are passionate about the mission of this church and its presence in the larger East Bay Community, and the power in shared ministry to deepen spiritual lives and help heal our world.
Previously, they served together as interim ministers of the Unitarian Universalist Church of Cherry Hill, NJ, and in separate settings at several churches in Massachusetts.
Kristin originally hails from Maryland, and Christian from Texas. They have been married since 2010, and have two sons who are active in the congregation.
Send an email to Rev. Christian Schmidt
Send an email to Rev. Kristin Schmidt
One of the co-ministers can be reached by email or by phone at the church (510-525-0302) on Tuesdays, Thursdays, and Fridays from 10:00 a.m. to 3:00 p.m. Outside of those business hours, or if you have a pastoral care emergency, please call 510-592-8738 and leave a message with your name, a brief description of why you called, and how best to reach you. They will respond to urgent and emergency messages as soon as they can and all other messages the next time they are in the church office.
Community Ministers
UUCB has five affiliated community ministers: Rev. Cat Cox, Rev. Theresa Hardy, Rev. Jeremiah Kalendae, Rev. Sue Magidson, and Rev. Dr. Jane Ramsey. Each is an ordained UU minister whose primary ministry is in the larger community outside our congregation. Out in the world, they serve as professional hospice and hospital chaplains, spiritual directors, and seminary staff.  At UUCB, they serve in membership, workshop facilitation, pastoral care, teaching, and preaching. With few exceptions, their service at UUCB is unpaid. The word "affiliated" means that they each have a formal relationship with UUCB, voted on by the Board, and summarized in a written covenant.
Learn more about our community ministers or read an occasional column by them.
UUCB is also blessed with several other ministers who are not formally affiliated community ministers, but still add to the power of community with their pastoral, spiritual or justice-seeking presence.
Ministers Emeriti
Barbara and Bill Hamilton-Holway were called by UUCB's congregation as co-ministers in 1996. Prior to this, they served as co-ministers in Salt Lake City, Utah. During this time, they helped expand Unitarian Universalism by serving as Organizing Ministers for congregations forming in Ogden and Park City.
Barbara is a graduate of Starr King School for the Ministry. Before ministry, she did graduate work in literature and for a decade she was a high school English teacher. Barbara also was a teacher as a Peace Corps Volunteer in the Fiji Islands. She is grateful for her years parenting her now grown children Sarah and Ben. Walking, blue skies, sunshine, poetry, friends and family refresh her spirits. Barbara wants her ministry to encourage people to be true to themselves, to be who they can be, and to increase the odds on justice and love.
Bill graduated from Meadville/Lombard Theological School and the University of Chicago Divinity School. After graduation, he served as minister of congregations in Texas and worked for the Unitarian Universalist Association in Boston as Director of the Extension Department. During college a significant decision for Bill was registering as a Conscientious Objector. Bill's family roots in Unitarian Universalism go back many generations. His grandparents were founders of All Souls Unitarian Church is Tulsa and his parents are founders of Hope Unitarian Church in Tulsa. Unitarian Universalism is in his blood. Family, genealogical research, reading, writing, travel, and hiking are among his great loves.
Barbara and Bill retired on June 1, 2014 and the congregation voted to bestow emeriti status on them at the May 18, 2014 Congregational Meeting.