Worship Associates
The Minister
One or both co-ministers usually lead Sunday morning worship. Recognizing that the social, experiential, theological and cultural assumptions of our community are broader than any two people can faithfully represent, our ministers work with a cadre of Worship Associates.
Responsibilities of Worship Associates
Each Worship Associate assists the minister in planning, preparing and presenting the Sunday morning worship. Each Worship Associate conducts approximately 6-8 services each year. Some experienced Worship Associates may also work with speakers besides the minister. Finally, a Worship Associate may also have opportunities in the summer to be Worship Leader where they craft the central message (sermon) and work with another Worship Associate supporting the liturgy.
Together, members of the Worship Associates Team meet monthly to 1) reflect intellectually, emotionally, socially and spiritually on each month's themes and share ideas for upcoming services; 2) engage in experiential learning opportunities to understand the art and intention of worship theory, design and practice; and 3) do logistical planning regarding putting together the congregational Sunday and Vesper worship.
Current Worship Associates
Bob Adams
Raised in the Christian Church (Disciples of Christ) in Chicago, Bob appreciates the life and teachings of Jesus, and that the DoC has been biracial from its earliest days. The Civil Rights movement seemed like a natural extension of inter-racial youth fellowships in which he participated. Bob served 2 years as pastor of a rural congregation in western Illinois, in the Peace Corps in India, did 2 years of doctoral work at the University of Chicago Divinity School, worked as a community organizer with the leader of the Chicago Freedom Movement, got a Masters in City Planning from Cal, and served as Executive Director of five affordable housing nonprofits in Chicago, Oakland, Berkeley & Richmond.
Later, he taught middle school in West Oakland, Pinole and El Cerrito till retirement in 2015. He continues volunteer work in local schools through the WriterCoach Connection and Read Aloud. A single parent of two children, Bob became a UU first at BFUU, then UUOakland for 15 years, now UUCB since 2005. Here he's served as a board member, choir member, and in the Men's Fellowship. He calls himself a Universalist.
Cynthia Asprodites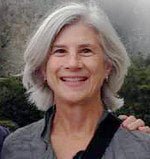 Cynthia was raised in a devout Catholic family in New Orleans. While she appreciated many aspects of her religious experiences as a child, she came to reject Catholic doctrine when she was a young adult. For more than a decade, she resisted the notion of organized religion. After moving to the Bay Area with her family in the mid-1980's, she and her partner, Maryann, recognized a need to provide their young child with a faith community consistent with their beliefs and values. As Cynthia has often commented, she came to UUCB for her daughter, then stayed for herself. Cynthia was particularly drawn to Sunday morning worship, which she considers a deeply spiritual experience.
Over the years, Cynthia's attachment to this congregation has deepened as has her involvement in many different aspects of church life, ranging from governance to small group ministry. At this time, she feels called to support UUCB's worship program. Cynthia recently retired from a meaningful career as a school psychologist. Besides church work, she now has more time for activities she enjoys: hiking, cooking, learning, traveling, studying Italian, and spending time with family and friends.
Karen Elliott
A long-time seeker, I'm grateful to have made my way to UUCB, where the multiple faith sources that mean so much to me are welcome. I'm inspired by UUCB's commitment to covenant relations and social justice, and I hope to mature in my own capacity for connection while here. I'm thankful to be a WA!
I was raised in a Calvinist family that attended a Congregational church. In adulthood, I sought out the spiritual expressiveness and ceremony/ritual/symbols that had been absent in my youth. I immersed myself in devotional Hinduism via Bharatanatyam, a sacred dance-theater art, and lived in India. (Recently, my grown daughter traveled with me to Chennai to meet my dance teacher's family and religious/artistic community.) During my middle adulthood, while married to a Zen priest, I trained in mindfulness Buddhist practices and then, later, mystical Sufism — two more Great Rivers. For 7 years, I've attended an African-American Pentecostal church in Oakland, where I experience freedom to sing, dance and pray to God from the heart. What a joy! In 2017, I came to UUCB — and discovered this remarkable community. I currently sing in the choir and co-facilitate Chalice Circles.
Lee Maranto
The reincarnation of Decius the Deficient, one of the most justly obscure Roman Emperors, Lee was the first recruit Sarah Ward made to Mithraism at UUCB.
A rising star at the law firm Dewey, Cheatham and Howe, Lee is a leading exponent of the movement to reintroduce trial by fire to American jurisprudence. "If it worked for Torquemada," he wrote in one of his many articles for the trend-setting journal Inquisition Today, "who are we to say that it can't work in modern times?"
Lee looks forward to bringing his unique perspective on historical precedent to UUCB.
Melissa Rosales
Melissa found Unitarian Universalism as an adult in Dallas, Texas while looking for a place for her family to find community and worship together. Raised as a Methodist, Melissa was looking for a theology that was open and valued the intrinsic beauty and goodness she saw in their young child. Raised as a Catholic, her husband David was looking for a place that valued rationalism and science. They found both in Unitarian Universalism at the First Unitarian Church of Dallas, where they were active members until their move to the Bay Area in the spring of 2016. Now, they are happy, active members of UUCB! While not at church, Melissa is a teacher, homeschooling her son. She is also an avid dancer, reader, crafter, and lover of puzzles and math, just to name a few interests. As a complex, multi-faceted, equally right and left-brained person, she refuses to be defined by any one label.
Deborah Schmidt
Brought up in Taos, New Mexico by parents who were open-minded seekers, Deborah was exposed to a rich variety of sacred practices, including Quakerism, Presbyterianism, Catholicism, and Pueblo earth-centered observances. A fascination with fairy tales, folk tales and mythology from around the world deepened her sense of the commonality of human wisdom. She learned early in life to translate religious terms into more inclusive, spirit-based language, so attending a UU service for the first time felt like coming home. She and her husband Daniel have been active members of UUCB since 2005. She is a poet and delights in bringing poetry to worship, recognizing that, with its imagery, emotionality, and concise yet multi-faceted nature, it has the power to teleport us to a place of heightened receptivity.

Sarah Ward
The reincarnation of a Roman gladiator, Sarah is currently the last living devotee of the mystic cult of Mithraism. While on a spelunking trip in the Pyrenees, she witnessed the emergence of Mithras from the rock wall of the cave, carrying a dagger in one hand and a torch in the other. As flames shot from the god's Phrygian cap, he commanded the astonished Sarah to lead a revival of his devotion.
Unable to find any other Mithraists to lead, Sarah wandered far and wide, attempting to convince others of the reality of her vision. Finally someone made a suggestion that changed her life: "Why don't you join the Unitarians? They'll take anybody." Finding her way to UUCB, she soon realized that she had found a spiritual home.