Children's Classes
We eagerly welcome new faces in all of our classes. You can learn more about what happens in each session by exploring our calendar of events or at the activities for families page. If you are ever interested in sitting in on a class with your child, please come on in; we are happy to have you. If you're new to our community, here's some helpful info to plan your visit.
---
Toddler Time
Young children between the ages of 1 and 4 gather together for a brief religious education session to explore the month's worship theme in story and song. Afterwords they enjoy playtime in childcare building. Childcare is also available for young children before and after the Toddler Time class.
---
Love Surrounds Us: K-1st Grade (Fall 2018)
Starting on September 9th, 2018 our K-1st Grade group will be exploring the Love Surrounds Us curriculum. This series of lessons explores our seven Unitarian Universalist Principles in an inspiring and age appropriate way. The focus is on understanding our principles in ways that relate to family, school, church, and the larger community.
---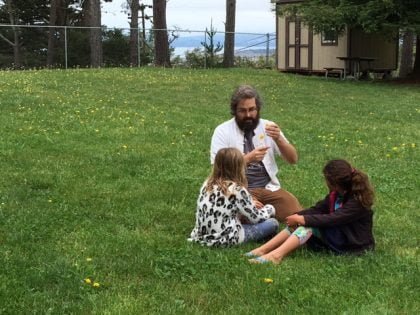 Love Will Guide Us: 2nd-3rd Grade (Fall 2018)
As Unitarian Universalists we have six Sources of Faith that we draw from. In this curriculum, we will look through the lens of these sources as we work together to discover answers to questions such as  "Where did we come from?" "What is our relationship to the Earth and other creatures?" "How can we respond with love, even in bad situations?" "What happens when you die?"
---
Love Connects Us: 4th-5th Grade (Fall 2018)
Love Connects Us celebrates important ways Unitarian Universalists live our faith in covenanted community. Moved by love and gathered in spirit, we embrace our responsibility toward one another and the world at large. We encourage one another's search for truth and meaning. We strive to be active in peace-making and other efforts to improve our world.
---
Childcare is also available for children in our childcare facility on Sundays.
The well-being of young people is important to us. All of our volunteers undergo background checks and training. Lean more about our safety policies here.