Children's Classes
We eagerly welcome new faces in all of our classes. You can learn more about what happens in each session by exploring our calendar of events or at the activities for families page. If you are ever interested in sitting in on a class with your child, please come on in; we are happy to have you. If you're new to our community, here's some helpful info to plan your visit.
The following religious education classes begin January 21st, 2018.
---
Toddler Time
Young children between the ages of 1 and 4 gather together for a brief religious education session to explore the month's worship theme in story and song. Afterwords they enjoy playtime in childcare building. Childcare is also available for young children before and after the Toddler Time class.
---
Picture Book Religion: K-1st Grade
The 4th Unitarian Universalist principle affirms the "Free and Responsible search for Truth and Meaning". Learning and engaging with a variety religious and spiritual traditions and expressions is vital to the development of open and affirming young minds. This Spring our K-1st graders will continue to explore World Religions, Judeo-Christian stories, and UU traditions through picture books! This will be an engaging time of activity, creativity, and learning. Learn more…
---
Signs of Our Faith: 2nd-3rd Grade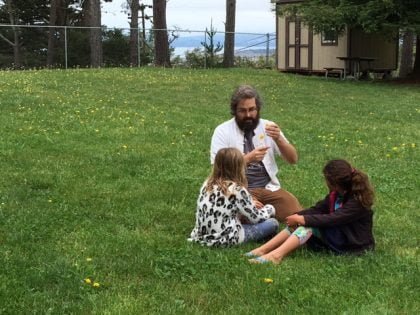 What are the signs of faith that make us distinctly Unitarian Universalist? How do we practice a religious traditions that draws on so many sources? This spring our 2nd-3rd grade Religious Education class will be exploring the expressions of faith that are specific to Unitarian Universalism and learn to engage their own spiritual journey through use of the Signs of Our Faith curriculum.
---
Toolbox of Faith: 4th-5th Grade
Being part of a church community aids young people in developing the ethical tools they will use for the rest of their lives. This Spring, our 4th-5th graders will seek to develop such tools as they engage the Toolbox of Faith curriculum.
---
Childcare is also available for children in our childcare facility on Sundays.
The well-being of young people is important to us. All of our volunteers undergo background checks and training. Lean more about our safety policies here.