Children's Classes
We eagerly welcome new faces in all of our classes. You can learn more about what happens in each session by exploring our calendar of events or at the activities for families page. If you are ever interested in sitting in on a class with your child, please come on in; we are happy to have you. If you're new to our community, here's some helpful info to plan your visit.
The following religious education classes begin September 25!
---
Toddler Time
Young children between the ages of 1 and 4 gather together for a brief religious education session to explore the month's worship theme in story and song. Afterwords they enjoy playtime in Skytown. Childcare is also available for young children before and after the Toddler Time class.
---
World of Wonder: K-1st Grade
As UUs we religiously respect the interdependent web of life of which we are a part. This class focuses on the direct experience of nature and how it is essential to children's physical, emotional, intellectual, and spiritual development. We will kindle the spark of wonder and deep sense of caring that nature can inspire. Learn more…
---
Moral Tales: 2nd-3rd Grade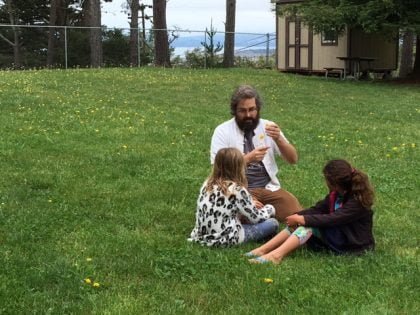 Every day our children go forth into a complex world where they are often faced with difficult decisions and situations. Moral Tales helps provide them with the spiritual and ethical tools they will need to make choices and take actions reflective of their Unitarian Universalist beliefs and values. Learn more…
---
Sing to the Power: 4th-5th Grade
Sing to the Power affirms our Unitarian Universalist heritage of confronting "powers and structures of evil with justice, compassion, and the transforming power of love." Participants experience their own power, and understand how it can help them to be leaders. Learn more…
---
Childcare is also available for children in Skytown on Sundays.
The well-being of young people is important to us. All of our volunteers undergo background checks and training. Lean more about our safety policies here.